Educating Audiences Through Entertaining Content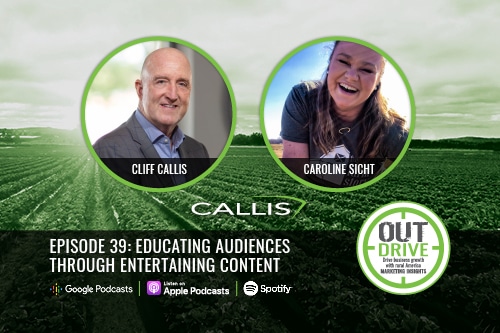 Sharing Stories from the Farm with the World
OUTdrive Episode 39 with Caroline Sicht
In this episode of OUTdrive, Cliff visits with Caroline Sicht, founder and owner of The Farm Story. Caroline grew up on her family beef farm and has made it her life's passion to share her love for and knowledge of agriculture with others. Through her podcast, social media and blog, Caroline educates others about the agriculture industry and shares what life on the farm truly looks like.
Read more for their thoughts on the importance of education and how Caroline reaches and engages her audience through entertaining content. They also discuss entrepreneurship, the growth of podcasts, social media strategies and what's ahead for The Farm Story.
Social Media Strategies
Social media is one of the most effective tools that The Farm Story uses to reach a variety of audiences. Platforms such as Instagram allow Caroline to share snapshots of everyday life on the farm in an easy-to-consume way. Additionally, followers can easily interact with her content and engage in meaningful, educational conversations. Caroline shares more on the strategies she uses when developing social content.
Visual Content
One of the most important components of engaging social media content, specifically on Instagram, is consistent, high-quality visual content, such as photos and videos. For The Farm Story, Caroline understands the importance of using photos to tell a story.
"I take all of my own pictures that I use on my website and social media," says Caroline. "I have an interest in photography because I feel like it's a really good way for people on the farm to share their stories. You're literally sharing what you see and experience on a daily basis."
Whether it is a sunset over a field or a selfie with a cow, Caroline provides her followers with a look at what she's up to every day. This content also allows them to ask questions and interact with her, especially if a photo or post includes something they're unfamiliar with.
"You just take some good photos and share some of your stories and start those conversations," says Caroline. "You don't have to tell everybody everything that they don't know. Let them ask you what they don't know and let them tell you where their knowledge level is."
Social media allows individuals to consume content that they are interested in at a time that's convenient for them. This makes it easier to meet their needs and deliver content that they will engage with. Educational content can be very effective when it's delivered in a unique and entertaining way.
Entertaining Content
Caroline understands that people want to be entertained, and works to deliver content that meets this desire. Social media is a great way to do this because social content is short and easy to consume. Captivating pictures grab attention and can be viewed in seconds, videos provide a personal connection and other short-form content is gaining traction.
"I think short-form entertainment like TikTok, Instagram Reels and that kind of stuff, for people my age, that's the kind of content they like to consume," says Caroline. "I think people take to some of the social media channels and things like that as an escape. They like to be entertained, they like to feel like they're understood and they like to find community. So anything that falls in those categories, I think is where people are loving it right now."
Looking Past the Pandemic
The feeling of community is more important than ever as our country and world look to get past the COVID-19 pandemic. Since founding The Farm Story, Caroline has been a guest speaker at numerous schools and events, sharing her story and encouraging others to share their experiences. Whether it is an FFA convention or speaking at a local high school, Caroline enjoys sharing The Farm Story in person. However, the COVID-19 pandemic has impacted these opportunities, leading her to connect with others through social media more than ever. When asked by Cliff how others are hearing about The Farm Story, Caroline shares how COVID-19 has impacted things.
"COVID has opened the door to a lot more conversations about things," says Caroline. "Because I openly talk about agriculture all the time, they would send me a message on Facebook, or text me and say, 'What the heck is going on?' and I was able to explain to them what was going on and share things that they were not getting from the news or from anybody else on social media."
Although COVID-19 has impacted many things, such as public speaking opportunities, Caroline is not slowing down in sharing her story and helping others tell theirs. In addition to social media and her website, Caroline also hosts The Farm Story podcast.
Podcast Growth
Like many other podcasts, The Farm Story podcast is growing and allows Caroline to reach her audience in a personal and meaningful way, regardless of where they live. Podcasts are rapidly growing in popularity, and the growth is not expected to slow down anytime soon. Podcasts are easy to consume, provide relevant, interest-based content and can be leveraged for personal and professional growth.
Podcasts allow creators to share content that they are knowledgeable and passionate about, making them a great option to share educational content. With hundreds of thousands of podcasts available to listeners, there is truly something for everyone. For those interested in agriculture or with questions about where their food comes from, The Farm Story is a great resource for gaining an inside look into the industry.
The Farm Story podcast allows Caroline to educate listeners about the agricultural industry and life on the farm through conversations with others. She helps others tell their stories by giving them a voice and leveraging the podcast to share her personal experiences as well. With fewer in-person speaking opportunities, the podcast lets Caroline connect with new audiences in new ways while continuing to accomplish her mission of sharing agriculture stories. For many people like Caroline, the convenience and personalization of podcasts are leading to great success, and the future looks bright.
Whether it is the podcast, social media or a recent blog post, Caroline is playing an integral role in educating others about the agriculture industry, while running a successful business and building genuine connections along the way.
Learn more about Caroline's adventures and The Farm Story at tellyourfarmstory.com. Gain more insight from Cliff and Caroline and hear more great stories in this episode of OUTdrive. Check it out!